For all the latest news and events check out our news stories below!
As seen in
August 9, 2021 | Runaway Covid Outbreak leads to Races Postponement | Media Release
Given the ongoing uncertainty and new outbreaks associated with the highly transmissible COVID Delta variant…READ MORE
February 3, 2021 | VC Events announces partnership with LAWD | Ginnie Hope-Johnstone
VC Events is excited to announce a partnership with newly developed agri… READ MORE
 January 25, 2021 | 2021 Birdsville Races Tickets to go on Sale in May | Gary Brook
Bumper Crowds Expected – Pre-purchase of tickets required to attend. READ MORE
December 1, 2020 | The Paddock Launches | Graziher Magazine Feature
Meet Ginnie Hope-Johnstone, director of VC Events – an event management company servicing…READ MORE
October 11, 2020 | The Paddock Australia Launch| Ginnie Hope-Johnstone
VC Events Co Australia Pty Ltd is pleased to announce the launch of The Paddock Australia.  A concept designed to…READ MORE.
October 1, 2020 | LambEx 2021 Cancelled | Georgina Gubbins
The organisers of Australia's premier sheep and lamb conference, LambEx, have announced the event that was rescheduled for…READ MORE.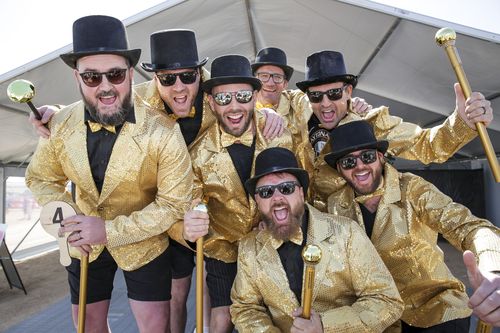 September 4, 2020 | NINE NEWS: "We'll be back": Birdsville's quiet weekend…victim of COVID-19 | Letitia Rowlands
Ben Fullagar admits a "had a moment" earlier this week… READ MORE.
August 26, 2020 | Covid Safe Wedding Success | Ginnie Hope-Johnstone
On Saturday August 22nd, VC Events first Covid Safe planned wedding was executed in Wellington, NSW with our… READ MORE.
July 29, 2020 | Nouba Wedding Blog | Adriana Sinicropi
James & Suzies Scottish-Inspired wedding in the NSW Southern Highlands. 'Scottish-inspired but for the modern-day couple' is exactly what… READ MORE.
June 1, 2020 | VC Events Road Trip Series|Ginnie Hope-Johnstone
As an event manager covering rural, regional and remote events across Australia, I have done my fair share of road trips… READ MORE.
May 25, 2020 | Iconic Birdsville Races Cancelled for 2020 | Gary Brook
Media Release – The Birdsville Race Club: Organisers of the Birdsville Races today announced that the iconic outback event will not be staged in 2020… READ MORE.
March 19, 2020 | Birdsville Races & COVID-19 Update | Gary Brook
Media Release – The Birdsville Race Club: The Birdsville Race Club is following, and will continue to monitor, all COVID-19 developments. We remain hopeful that the event will proceed… READ MORE.
 March 18, 2020 | Graziher Up Late Biloela, QLD Postponed | Claire Dunne
Media Release from Graziher editer Claire Dunne: We have been tracking how things have been progressing in the past few days.⁠ Due to these uncertain times… READ MORE.
March 18, 2020 | Weddings On Hold | Ginnie Hope-Johnstone
Due to the current global pandemic of COVID-19 and government health and safety regulations, VC Events will not be facilitating… READ MORE.
March 17, 2020 | Lamb Ex 2020 Postponed | Georgina Gubbins
Australia's premier Sheep and Lamb conference, Lamb Ex, will be postponed for 12 months, with a new date to be set for 30 June – 2 July, 2021… READ MORE.
May 5, 2019 |LambEx 2020 Announced for Melbourne | Seedstock Central
Preparations are in full swing for LambEx 2020 with the Melbourne Showgrounds announced as the… READ MORE.
May 3, 2019 | New Melbourne Showgrounds facility to host LambEx 2020 | Sheep Central
VICTORIAN capital city Melbourne will host Australia's premier lamb industry conference Lambex for the… READ MORE.
April 1, 2019 | Graziher Magazine | Jayne Cuddihy
For many people, a cancer diagnosis will define the rest of your life. But Venessa Harris wants to talk about anything but 'the big C'… READ MORE.
November 1, 2018 | Liquid Life & Leisure Magazine
The iconic Birdsville Races, known as the 'Melbourne Cup of Outback Racing' is one not to be missed.  Taking place on the first weekend of September each year, it is the perfect excuse for a road trip through the heart of Australia… READ MORE.